Brotherhood
May 2019 Men's Club Message
| | |
| --- | --- |
| Author | |
| Date Added | |
| Automatically create summary | |
| Summary | |
Why Does Kol Rinah Need A Men's Club?
Kol Rinah Men's Club serves many important social, philanthropic, religious and community needs. We are here to meet that commitment by providing social opportunities to enable participation, promote our religious, cultural and engagement agendas for all segments of the Kol Rinah family. We often welcome guests who simply want to come to hang out without worry as a method of giving a taste to prospective members. If you have not yet joined, you can do so by sending an email to mensclub@kolrinahstl.org.
Why Join?
We are here to provide the men of Kol Rinah an organized volunteer group to meet our commitment to philanthropic, religious, social and community needs by providing fun and exciting social events to enable participation and promote our religious, cultural and engagement agendas. Your membership gives us the strength and manpower to fulfill this commitment. Without members like you, we are nothing.
Programming
We have year-round programming, with several recurring events. Our World-famous Steak and Scotch in the Sukkah has been an extremely popular and recurring event with about 75 attending annually. Some of our other events include Poker and Game Night, Sports Night, our distribution of Yom HaShoah Yellow Memorial Candles, Welcome Back to Religious School Pancake Breakfast, World Wide Wrap, Man and Youth of the Year awards, scholarships to help send Kol Rinah youth to Israel and other Jewish learning opportunities and much more. We should have something for you. If you have an interest not being met, let us know and we will see what we can do to incorporate your ideas or needs into our schedule of events.
Future planning may include a magic show, talent night, football/hockey nights, feeding-those-in-need community events, paintball, bowling night, poker tournaments, go kart racing, Cardinals games, Business Networking Night, A GUYS Night with the Rabbis, Young Men's Shmooz, family events and music events.
Announcing
The Kol Rinah Men's Club has just purchased a Sukkah kit that will accommodate up to 125 for a sit-down dinner. We will have it in time for our first Sukkot at the Maryland Avenue Building.
B'Shalom,
Max Brown & Richard Gavatin
Wed, February 26 2020
1 Adar 5780
Brotherhood Calendar
Kabbalat Shabbat at the Brentmoor Retirement Community
First Friday of each month 4:00 p.m. 8600 Delmar Blvd., 63124
Brentmoor Kabbalat Shabbat Minyan (above)
Questions about any of these events? Contact us at mensclub@kolrinahstl.org.
Annual Brotherhood/ Sisterhood Trivia Night at the JCC
Saturday, February 29, 2020, doors open at 7:00 p.m., play begins at 7:30 p.m.
Brotherhood Shabbat
Saturday, March 14, 2020, 9:00 a.m.
Man and Youth of the Year Award Luncheon
Sunday, March 22, 2020, 1:00 p.m. in the Kol Rinah social hall.
Blasts from the Past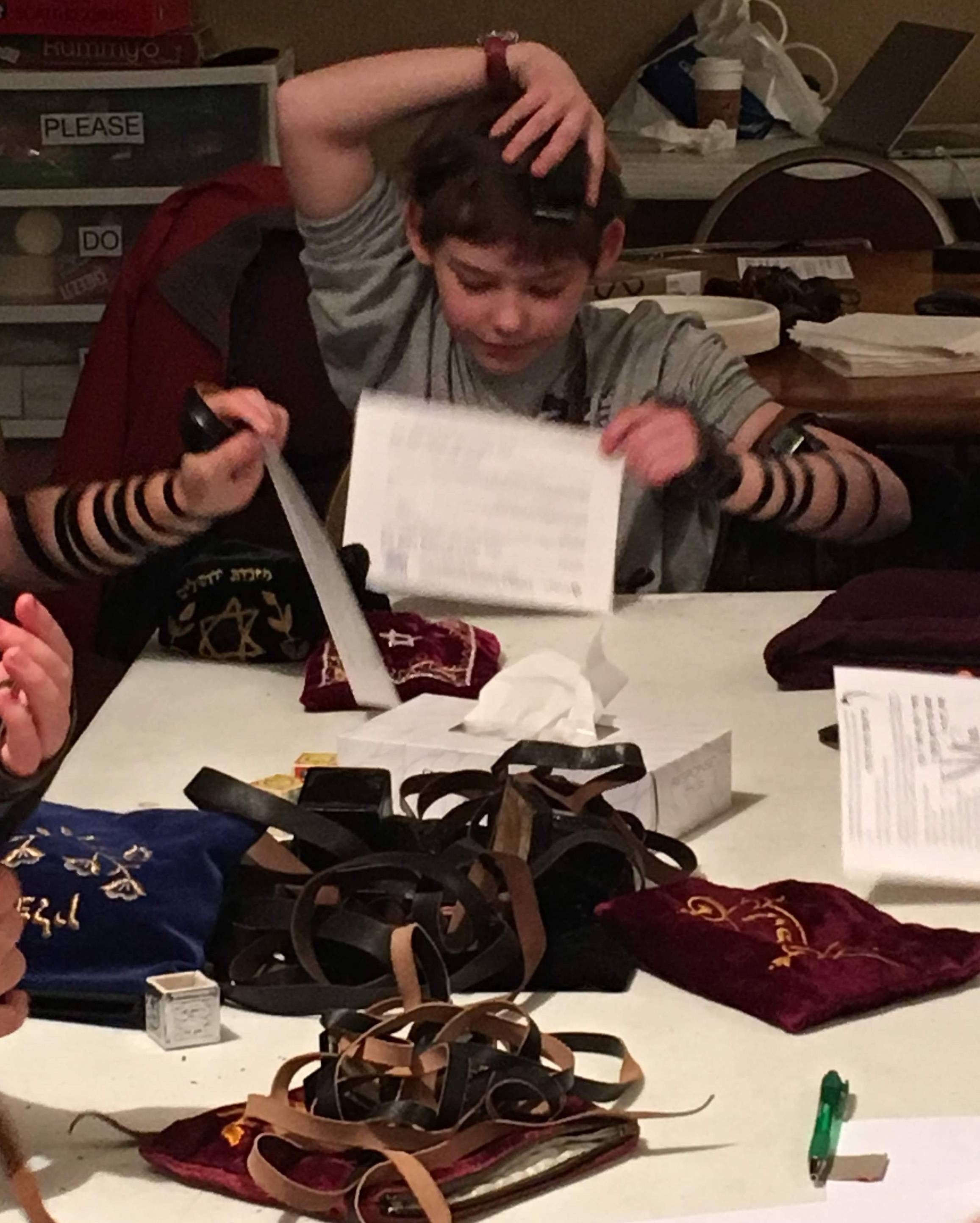 Confused Preparation for the 2019 World Wide Wrap
World Wide Wrap 2019 after excellent training and preparation
Men's Club Officers Complete a Letter in the Mark Raiffie Torah
Sitting from left, Dave Propper, Mitch Shenker, HaSofer
Standing from left, Monroe Ginsburg, Alan Schwartz, Bob Olshan, Ray Silverstein, Rudy Oppenheim (z''l), Gary Kodner, Joseph Iken (z''l)
Kol Rinah MINYAN TIMES and Kol Rinah Calendar
Today's Calendar
---
Upcoming Programs & Events
---
This week's Torah portion is

Parshat Terumah
Candle Lighting
Havdalah
Motzei Shabbat, Feb 29, 6:39p
Rosh Chodesh Adar
View Calendar
Update this content.
EVENT REQUEST
Kol Rinah has adopted a new online process for creating an event through Kol Rinah. To start the process, hover over Calendar on the menu bar above and click on Event Request..
Wed, February 26 2020 1 Adar 5780