Book Club
Kol Rinah & B'nai Amoona Book Club
Book Club meets on the 4th Thursday of the month from 10:00-11:30am by Zoom.
We discuss books by Jewish Authors or with Jewish content.
Upcoming Books & Dates
**August 26, 2021**
"We Love Anderson Cooper: Short Stories" - R. L. Maizes (171 pages).
**We will be joined virtually by the author R. L. Maizes.
September 23, 2021
"The Lost Boys" - Faye Kellerman (384 pages)
October 28:
"The Color of Love: A Story of a Mixed-Race Jewish Girl - Marra B. Gad" (256 pages)
November: No Book Group (Jewish Book Festival)
December 23:
"Israel: A Simple Guide to the Most Misunderstood Country on Earth" - Noa Tishby (352 pages).
Previous Books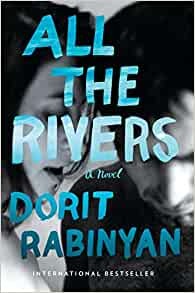 June 24, 2021
"The Lost Shtetl" by Max Gross (416 pages)
July 22, 2021
"All the Rivers: A Novel" - Dorit Rabinyan (288 pages)
May 27, 2021
"The Face Tells the Secret" - Jane Bernstein (315 pages)
April 22, 2021
"Eli's Promise" by Ronald H. Balson.
March 18, 2021
"Still Foolin' 'Em: Where I've Been, Where I'm Going, and Where the Hell Are My Keys?" by Billy Crystal.
February 25, 2021
The Book of V.: A Novel - Anna Solomon (320 pages)
January 28, 2021
"Conversations with RBG: Ruth Bader Ginsburg on Life, Love, Liberty, and Law" by Jeffrey Rosen
December 17, 2020
"The Weight of Ink" by Rachel Kadish
October 22, 2020
"A Rabbi's Daughter" - Avigail Graetz
September 24, 2020
"On Division" by Goldie Goldbloom
August 27, 2020
"Mrs. Everything" by Jennifer Weiner
July 23, 2020
"Windy City Blues" by Renee Rosen
June 25, 2020
"Green: A Novel" by Sam Graham-Felsen
Fri, September 17 2021
11 Tishrei 5782
Kol Rinah Vision, Mission, Inclusion
VISION: A dynamic and forward-looking congregation where all generations come together to experience Judaism in innovative ways.
MISSION: Create a welcoming community that embraces Torah, meaningful worship, lifelong learning, music, Israel, and tikkun olam, guided by the tenets of Conservative Judaism.
INCLUSION: Kol Rinah welcomes everyone. This means YOU! We embrace a diversity of all Jews. including: Jews by choice, Jews of all hues, singles, couples, families, interfaith households, LGBTQ Jews, Jews of all abilities and disabilities, the Jew-curious, and more!
Minyan Services and Program Times
Streaming Shabbat Services
Shabbat morning services begin in-person and streaming at 9:30am. Click the link below to join us.
How to disable computer sleep mode
Click here for the Zoom Links Page
You must be signed in to your Kol Rinah account. If you need assistance logging in please call Meir Zimand at 314-727-1747
Upcoming Programs & Events
---
This week's Torah portion is

Parshat Ha'Azinu
Candle Lighting
Havdalah
Motzei Shabbat, Sep 18, 7:50pm
Erev Sukkot
View Calendar
Office Hours:
7701 Maryland Ave. 63105
Monday – Thursday 9am to 5pm
Friday 9am – 3pm
Phone: 314-727-1747

Contribute to a Shabbat Kiddush
Celebrate life-cycle events or honor a loved one. A Shabbat Kiddush is a beautiful way of sharing a moment with the community!
Fri, September 17 2021 11 Tishrei 5782